Creative Cranial Helmets for Plagiocephaly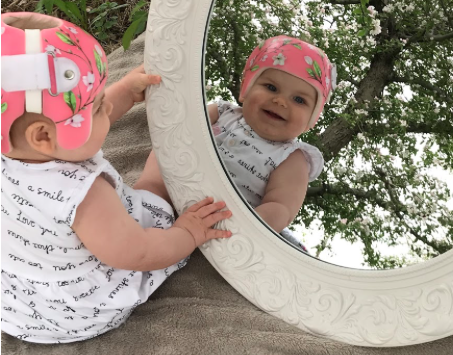 Biodesign Prosthetic and Orthotics has the opportunity to work with lots of little ones with head shape asymmetry, treating plagiocephaly and brachycephaly with cranial remolding orthoses. One of our clients' families chose to embrace the helmet, and to make a fashion statement instead of just wearing it! C comes from a family of apple farmers, so her parents chose to have custom decals made for her cranial remolding orthosis by Bling Your Band . She is celebrating spring in style and honouring her heritage while rounding out her head.
C had the opportunity to do a photo shoot in an apple orchard in bloom, and she blends in perfectly among the blossoms! So glad we could be a part of this memory for her and her family!
Cranial remolding orthoses are used for brachycephaly and plagiocephaly, which are the two most common head shape asymmetries. They are characterized by a persistent flat spot on the back or side of the head of an infant. In order to normalize the flattening, an orthotist will custom fabricate a cranial remodelling orthosis or helmet for the infant. The infant will wear the helmet until the measured cranial discrepancy is within normal limits.
The cranial remodelling orthosis treatment program focuses on redirecting cranial growth toward greater symmetry. This is accomplished by maintaining contact over the prominent areas of the head, and allowing room for growth in the areas with flattening. Contact Biodesign today for more information, or to schedule an assessment!